I just wanted to say thank you again for all your help, the amazing music and BIRO!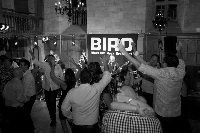 As you probably noticed, we all had an absolute ball and the music was definitely a huge contributing factor to this (as well as the video, which I have just shared with a whole lot of guests as they wanted to watch it again!).  We all had an absolute blast.
Please pass my thanks onto BIRO - they were awesome.
Thanks again
Kevin and Sarah